Ophthalmologist Eye Surgeon - Palm Springs, FL
William G. Martin, M.D., FACS
Dr Martin is a nationally known Eye Surgeon specializing in Bifocal Reduction Laser Assisted Cataract and Lasik Surgery.  He has lectured extensively in the United States and internationally.
Originally from Massachusetts, Dr Martin's credentials include Princeton University, Johns Hopkins, The University of Maryland, and Thomas Jefferson University.  After completing his Residency at the world-famous Wills Eye Hospital, Dr Martin did post graduate studies in Laser Eye Surgery in Paris and Moscow.
Prior to coming to our practice, Dr Martin was Chairman of the Division of Eye Surgery at The University of Toledo and The Medical College of Ohio.
Dr Martin has performed over 30,000 Cataract Vision Enhancement Procedures and more than 20,000 Laser Vision Correction Procedures.  He is one of a small number of Eye Surgeons who is Board Certified in both Cataract and Laser Vision Correction.
Dr Martin is a US patent holder in eye surgery technology and intraocular lens design.
Dr Martin firmly believes: "Sight is our most precious gift.  My job is not just to treat eye problems, but more importantly, to improve and enhance vision with the most advanced state of the art technology and premium lens design. While Cataracts are common, the opportunity you have here at Visual Health is unique.  By offering the latest technology and the best surgeons, we celebrate the opportunity that comes with your cataract treatment.  These opportunities include Laser Assisted Cataract Treatment and advanced technology lenses which can reduce your dependence on glasses."
Daniel E. Goldberg, M.D.
Retina Specialist
Dr. Goldberg has specialized in the treatment of Macular degeneration, Diabetic Retinopathy, Retinal Detachments, Vascular Occlusive Disease, Macular Hole, Epiretinal Membrane and Uveitis as well as other diseases of the retina and vitreous since 2002.
Born in New York, he attended Columbia University for his undergraduate studies. After attending medical school at Albert Einstein College of Medicine in Bronx, New York, he completed two residencies, first in internal medicine and then in ophthalmology. Dr. Goldberg is Board Certified in both Internal Medicine and Ophthalmology but chose ophthalmology as his career.  He completed a fellowship in vitreoretinal diseases and surgery at Shiley Eye Center in San Diego California. Since 2003, he has lived and worked in the New York City area. Dr. Goldberg is licensed in New York, California, Connecticut, New Jersey and Florida.
He is accepting new patients at both Visual Health locations.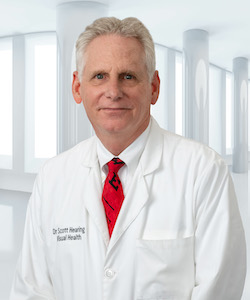 Richard (Scott) Hearing, O.D. F.A.A.O.
Board Certified Optometric Physician
Dr. M. Richard Hearing has been a resident of Florida since 1968. He graduated from the University of South Florida with a Bachelor's Degree and received a Doctorate in 1984 from the Southern College of Optometry in California.  He is a fellow at the American Academy of Optometry and is an active member of the Palm Beach Florida Optometric Association.  Further highlights from his career include:
Adjunct Faculty at West Virginia University, School of Medicine
Certified in Low Vision by the State of Florida, Division of Blind Services
Clinical affiliation for the Summit Excimer Laser Program
Refractive Surgery and Corneal Reshaping Consultant
Former U.S. Army Reserve Medical Officer
Private Pilot's License, Missionary Flights Volunteer
Former Director of Clinical Eye Care at the Providenciales Health Medical Center (PHMC)
Former Director of Optometric Services for Medical Ministries International (MMI)
Former Board of Directors of Braille International member
Eagle Scout, Boy Scouts of America
All About Medicine with Dr. Hearing
Amber Zeiss, O.D.
Board Certified Optometric Physician
Dr. Zeiss completed her undergraduate degree in biology at the University of Florida where she graduated cum laude. She earned her optometry degree at Western University of Health Sciences College of Optometry and was a member of the Beta Sigma Kappa honor society.
Dr. Zeiss completed rotations at the Eye Care Institute of Los Angeles and the Lee County Veterans Affairs Clinic where she expanded her knowledge of low vision rehabilitation and ocular disease. She completed a residency at the Vision Center of West Phoenix which focused on ocular disease, primary eye care, and contact lenses. Dr. Zeiss performs comprehensive eye exams and manages ocular diseases such as glaucoma, dry eye syndrome, and red eyes. She finds it rewarding to be able to improve her patients' vision and ocular health while also getting to know her patients.
Dr. Zeiss is a Florida native, growing up in Port St. Lucie. She is married to her husband, Abraham. Dr. Zeiss enjoys the company of her family, and their dog — Charlie. She loves all things Disney, traveling, and playing the piano.
Kyler Farnan, O.D.
Board Certified Optometric Physician
Dr. Farnan received his undergraduate degree at the University of Missouri in Columbia. He then attended the University of Missouri at the St. Louis School of Optometry. He believes the sense of sight is one of our most powerful and important senses, and finds it rewarding to be able to enhance a patient's vision, as well as assessing their overall health. Dr. Farnan conducts vision exams, prescribes eyeglass and contact lens prescriptions, and treats corneal abrasions, pinkeye, and dry eye.
Dr. Farnan grew up in Stanberry, Missouri. As a child, he would spend time in his father's optical shop, which planted the seed for him to become an Optometrist.
Along with being a big fan of the Kansas City Chiefs, Dr. Farnan also enjoys traveling, hiking, reading, and spending the day at the beach — which is easy, with Dr. Farnan living in the North Beach section of Miami.