Effective Laser Cataract Surgery in Palm Springs, FL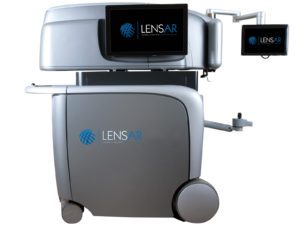 If you have been diagnosed with cataracts and are looking for an effective treatment option, then Visual Health and Surgical has the solution. We offer laser cataract surgery in Palm Springs, FL, which is the latest and safest approach for removing eye clouding cataracts. While traditional surgery is still a safe and successful option, advances in laser technology have allowed for a more customized and efficient approach.
Using the same laser technology that makes LASIK vision correction so successful, we are able to provide effective visual results for our patients. Contact us to learn more about our laser surgical solutions and to discuss your treatment options for your cataract removal.
About Laser-Assisted Cataract Surgery
Our laser-assisted surgical solutions use a femtosecond laser to replace handheld surgical instruments during our cataract and glaucoma treatments.  We use advanced technology, called optical coherence tomography to create a detailed map and surgical plan for the incisions needed to access your natural lens. Using this plan, the femtosecond laser will create a perfectly shaped, sized, and centered circular opening to break the cataract into tiny pieces that are removed with gentle suction.
Once the cataract is removed, we will place an intraocular cataract lens (IOL) where the natural lens was. We offer several IOL options, each with unique features to meet the needs of each patient. Prior to your laser cataract surgery, our team will meet with you to determine which IOL would be best for your lifestyle and visual needs. Recovery from your surgery is very short, with many patients noticing a remarkable visual improvement within 24 hours.
The Benefits of Laser Cataract Surgery
There are several advantages to using a laser for cataract removal. Our surgeons have found that laser surgery is simpler and more predictable than traditional methods. The accuracy of the laser allows for more precise incisions, and using the laser to break up the cataract leads to fewer complications than using ultrasound energy. Additionally, using a laser makes centering positioning the IOL easier, which leads to better outcomes. To learn more about the benefits of using a laser for cataract surgery or to see if it is the ideal solution for your eyes, reach out to our office.
Learn More about Laser-assisted Cataract Surgery
Our laser cataract surgery is a highly successful procedure. But it is not ideal for all cataract patients. Prior to surgery, a board certified ophthalmologist from our team will meet with you to discuss your eye health and symptoms. Using this information they will determine whether you are an appropriate candidate for laser-assisted cataract surgery or traditional surgery.
To learn more about laser-assisted cataract surgery, schedule an appointment with Visual Health. Please call our office today at 1-800-771-3937.